RŌCA Salon & Spa was the first salon to introduce the art of eyelash extensions to Kansas City,
and we remain the BEST!
Imagine waking up every day to the thicker, longer and more dramatic lashes you've always dreamed of without the worry of mascara! Throughout the world, mascara and eyelash perms are quickly becoming a thing of the past thanks to the revolutionary art of eyelash extensions. You will see them on nearly every red-carpet celebrity.
As seen in national magazines:
Lucky U. S. Weekly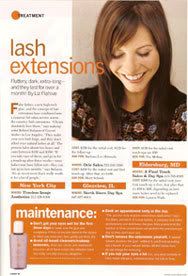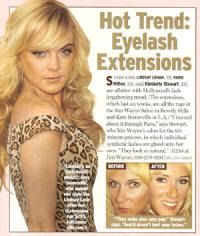 Wake up to naturally long, lush lashes every day with semi-permanent eyelash extensions! RŌCA Salon & Spa offers professional eyelash extensions to help you achieve the eyelashes you've always dreamed of! Your lashes can now look thicker and longer thanks to micro-extensions applied individually to each of your own natural lashes. These lashes are so realistic that even up-close you cannot tell that they are not your own! These are not the "strip" or "individual clump" lashes many are familiar with; but, rather, micro lashes that are fused directly one-by-one to your own lashes for a totally natural appearance.
Un-retouched photo; client is not wearing any mascara or eye makeup


Before After
Actual eyelash extension being attached to an individual natural lash by our certified lash expert:

The Lashé Eyelash Extensions represent the next generation in eyelash extension technology, utilizing a state-of-the-art micro-bond that is completely undetectable, unlike other eyelash extensions.
*Our eyelash extension experts are certified and have received comprehensive, hands-on training.

We use only the highest quality products available including the only medical-grade,
fume-free adhesive that is formulated and produced in an FDA-certified facility in the USA.
---
BE AWARE: Salons offering this service for far less price than other salons are simply offering inferior products or service. You get what you pay for! This procedure is very delicate and takes usually anywhere from 1 1/2 to 2 1/2 hours. You simply cannot do a proper application in less time. We use only the highest quality materials and have received extensive hands-on training (not from viewing a training DVD).
---
This photo shows one eyelash extension compared to
traditional "individual" eyelashes. The eyelash extension
is bonded directly to one eyelash, whereas the individual
eyelashes are glued to your eyelid close to your lashes.
"individual" eyelashes only last a few days, while eyelash
extensions stay on through the life* of your natural lashes.
*The "life" or "cycle" of natural lashes is approximately 60 days, where they are in a growing stage, then a dormant stage, then after which they fall out at intervals.
One of Hollywood's biggest secrets… is no more! Now you can be OutLashe'd just like the stars. This semi-permanent technique involves attaching a single synthetic fiber to a natural eyelash using a bonding agent. In other words, one single extension is placed on one individual natural eyelash. The results are amazing and you won't believe your eyes! You will have instant volume along with long, luscious lashes. Best of all, our extensions are so natural, no one will be able to tell they're not yours. Release your inner diva and see how you can always look young and sexy!

Want to know more OutLashe benefits? Our clients love the unique looks we create for them. Better still, ladies, you can give up the mascara! No more smudges and dark circles under your eyes due to clumpy, heavy, and hard-to-remove mascara on your lashes. Our adhesives contain pulverized rubber polymers for super flexibility and softness that can keep up with your busy lifestyle. Say hello to glossy, feather-light, silky lashes and see what is OutLashe'd within you!
What are OutLasheTM Eyelash Extensions?
OutLashe extensions are semi-permanent synthetic fibers used to create volume and extend the length of natural eyelashes. In other words, one single extension is placed on one natural eyelash. The result: you won't believe your eyes! You will have instant volume along with long, luscious lashes. Best of all, our lashes have been specially designed to look completely natural; no one will suspect they're not yours! OutLashe your inner diva and see how you can always look fresh and photo ready. Hollywood's lashe-y little secret is no more! Now you can be OutLashe'd just like the stars.
Why OutLasheTM Eyelash Extensions?
OutLashe extensions represent the next generation in eyelash technology. With over five years of experience in applying extensions to the most glamorous clients, we know how to OutLashe you! OutLashe has created the only professional line of extensions that mimic natural eyelashes, with American-made adhesives and salon developed techniques. Say hello to glossy, feather-light, and silky extensions for the ultimate in luxe lashes.
What are OutLasheTM Eyelash Extensions made of? OutLashe extensions are made exclusively made of premium synthetic materials. Synthetic materials are more hygienic than mink or human hair lashes which can also cause an allergic reaction. Do you know how the animal or human hair was harvested? Best we leave that to the imagination. Synthetic materials are also more durable. The shine and shape will not be affected by water, heat, steam or sweat and will keep up with your busy schedule.
Is the adhesive safe?
Yes. OutLashe Fume-Free AdhesivesTM and Rapid-Dry Adhesives are American-made medical-grade adhesives that have been designed and produced at an FDA approved facility. They are the same adhesives used for wound closure. OutLashe adhesives have maximum bonding strength with high flexibility and shine. Our formulation contains pulverized rubber polymers to provide flexibility - an industry first. No porcupine needles here! OutLashe adhesives are the safest and highest performing adhesives available.
How long do OutLasheTM Eyelash Extensions last?
When applied properly, semi-permanent extensions can last a full month, or even longer, depending on the growth cycle of your natural eyelashes. To maintain the look, Re-Lashe appointments are necessary every 2 to 3 weeks to replace the lashes that have shed or outgrown. Our adhesives are formulated to hold the lash in spite of water, heat, steam or sweat, and can keep up with your busy lifestyle. OutLashe Coating Sealant, the only American made sealant available, can be applied to prolong the life of the extensions.
Will I be able to sense that I am wearing OutLasheTM Eyelash Extensions?
No! Because the extensions are placed away from the base of the natural eyelashes, you won't be able to feel the extensions. OutLashe extensions unique lightweight design ensures that your new extensions will feel like they are your natural eyelashes. OutLashe extensions are the only extensions available that have been completely designed to mimic a natural eyelash in shape and weight. OutLashe adhesive is so flexible that the lashes move with your natural lashes, even in a wind gust. You will be able to freely touch your lashes, and with an OutLashe certified technician application, you won't be able to notice the extensions have been applied.
Can I apply OutLasheTM Eyelash Extensions to my own lashes?
No! Only a trained and OutLashe certified professional will be able to safely apply OutLashe extensions. Eye injury or clumpy, unnatural looking lashes are likely to result from unprofessional or self application. OutLashe Certified Technicians have gone through rigorous hands-on training in advanced application and design techniques, and can create a custom look tailored to your features. Our clients love the unique looks we create for them, and some exclaim we are an eyelift without the scalpel!
Can I swim, spa or have a facial service while wearing extensions?
Yes! OutLashe extensions were designed to keep up with your busy lifestyle. Our clients love how our extensions last and last, even when worn on vacation, skiing, swimming, snorkeling, and sunning all day! We recommend that you wait 24 to 48 hours before visiting the spa to allow adequate adhesive bonding. After that, resume your regular schedule.
Can I wear mascara with OutLasheTM Eyelash Extensions?
Yes! Although the extensions give the appearance of wearing mascara, some women choose to wear mascara. OutLashe only recommends using OutLashe Mascaras, which have been specially formulated for OutLashe extensions. Other mascaras will cause premature shedding. If you choose to wear mascara, apply sparingly and only on tips; never apply from base to tip. We only recommend using OutLashe Eye Make-Up Removers, which were also specially formulated not to affect the bond of OutLashe Adhesive.
Do OutLasheTM Eyelash Extensions harm my natural lashes?
No! Since OutLashe extensions are applied your existing natural lashes away from the base, the growth cycle of the natural lash is not affected. The extensions are placed one millimeter away from the base of the lash, where no contact to the skin occurs. You must have some natural eyelashes for this procedure. Extensions should not be applied on individuals who have recently completed or are undergoing chemotherapy, have alopecia, or who suffer from trichotillomania or thrichosis. If you have any eye condition where the eye does not look healthy or have an adhesive allergy, you are probably not a candidate for eyelash extensions. Consult with your ophthalmologist for a recommendation.
How long does an OutLasheTM Eyelash Extension Application take?
Depending on the skill level of the technician, an OutLashe-Certified Technician will take between 1 - 1 1/2 hour minutes to apply a full set of extensions. How many eyelash extensions are in an OutLasheTM full set? Here is where the real difference is! An OutLashe full set application consists of between 130 to 150 extensions, not the typical 90 extensions from current industry technicians. The results are astonishing! Depending on how many natural lashes you have, the OutLashe certified technician can apply 120 or more lashes to most clients. The OutLashe Studio also trains technicians to be real artisans when it comes to the application. OutLashe Studio trains OutLashe Certified technicians to take into account a client's face shape, eye shape, eye placement, and brow arch to create a unique look for every client. That result is a customized eye-enhancing look.
Is the Eyelash Extension Application comfortable?
Yes! It is such a comfortable process that most of our clients are so relaxed that they fall asleep. During the application, you are reclined on a massage bed with specialty leg and neck pillows with the eyes closed. It is the same as going for a facial, although with OutLashe certified technicians, you won't even feel like they are working on your eyes.
Is there a difference between OutLasheTM Eyelash Extensions and other products available?
Yes! The three main differences are how natural OutLashe extensions look, how long that they last and how they affect your natural eyelashes. Some products available are: eyelash strips, flares, clusters, lash tabs, mascara that creates tubes, or the new eyelash growing liquids on the market.
False eyelash strips are the oldest and probably most well known product. They involve using a gummy adhesive that touches the skin. The lashes are made of various materials and are the least natural looking. Lash strips only last a day and can come off or dislodge during the course of wear. They can also clog your pores and glands, potentially creating infections and will cause your lashes to grow in thinner. Flares, clusters, and lash tabs are often misrepresented in the market as eyelash extensions. These products consist of between 3 to 8 lash bunches with a node or knot at the end. Lengths and quantities of lashes in the bunch may vary, but application involves adhesive touching the skin or the node adhered to multiple natural lash bases, depending on the size of the node. Lash tabs, clusters, flares and strips can also often clog the pores on your eyelids and are dangerous to those having adhesive allergies. Beware of the individual eyelashes that come in trays! These lashes may look like they are the same as single eyelash extensions, but they are the farthest thing from it. They may have a single or multiple strands, and glued to the tray using an adhesive bead. Often this is the adhesive used to adhere to the lashes and it is clear and gummy. If eyelash adhesive is used in conjunction with the adhesive the look will not be natural at all.
Mascaras that create tubes do not create volume and length as extensions do. The product smudges and creates the raccoon-eye effect. Over usage of this product weakens and damages the lashes. Removal of this product from your lashes is often very difficult due to the mascara's thick nature.
The new lash growing liquids are very difficult products to use, and to see results application must be done twice daily consistently. The issues with these products are if you have thin or weak lashes you will just grow longer thin or weak lashes. The liquid must be precisely applied and evenly distributed, as it is possible to grow hair on undesirable places or create patches of thicker lashes.
Some things you should know...
All lash extensions are semi-permanent, lasting several weeks, and must be gently cared for.

Your first re-evaluation and fill should be scheduled within 10-14 days of your application, since that is when you will be the roughest on your new lashes as you get used to wearing them.

RŌCA Salon & Spa uses only the finest lashes and adhesives for your safety.

Great for special occasions and regular daily wear.

Eyelash extensions are weightless and are attached to your own eyelashes, not your skin, for a natural look and feel to give you longer, fuller lashes.

These are not "glam" lashes, such as strip eyelashes; rather, they are totally realistic.

No need for mascara or eyelash curler.

We may tint your natural lashes, if desired, prior to the lash application.

Since they are attached to your natural lashes, they may feel like they are "sliding away" from your skin. However, they merely growing out with your lashes, such as artificial nail enhancements grow out and hair color grows out. This rate is determined by your natural lash cycle*.

You must receive a touch-up every 2-3 weeks to maintain the lashes, depending on your lash cycle*.
How it's done...
Lash Extensions are applied individually by hand to each of your own lashes for a totally natural look. This treatment involves attaching anywhere between 40 and 70 individual lashes depending on the density of your own lashes. We offer various curves, lengths, and thicknesses to achieve the best results.

With the proper care, individual eye lash extensions can last more than two months. However, eye lashes continually grow out on a replenishing cycle. This makes the average "lash" life cycle is about 60-100 days. The extensions attached to "new" lashes will last longer than the ones attached to fully-developed lashes, since they will be shed sooner. This creates the need for touch-ups every 2-3 weeks.
How you care for them...
Proper maintenance of your new Eyelash Extensions are important for longer lasting, beautiful lashes. Since your eye lashes shed normally, it is recommended that you schedule retouch applications every 2-3 weeks depending on individual needs.
Quick Tips...for best results
Avoid getting your lashes wet within the first 24-48 hours after your application.

For the first two days after application it is best to avoid swimming, saunas or steam rooms.

You may wash your lashes gently with soap and water, and then pat dry.

We recommend you come back for a retouch every 2-3 weeks to replace any fallen or outgrown lashes.

Do not use waterproof mascara or mascara remover.

Do not use an eyelash curler, perm, or tint your eye lash extensions.

Do not pick, pull or rub your lashes.

If you experience any itching or irritation, contact your RŌCA Salon & Spa professional immediately.
Prices: Full Set Eyelash Extensions, $250 and up, depending on desired fullness
Eyelash Extensions Retouch, $70 and up
*NOTE: If you have another brand of lash extensions and want to switch to our ultimate lashes, a removal charge will be added to the price of the new full set. Our lashes are the latest micro-bond technology and are incompatible with standard eyelash extensions.